From doing a quick search, browsing categories to following hyperlinks - our help centre's navigation enables you to easily find the answers you're looking for.
Searching
Search bar
The search bar will be your go-to asset when needing to find an answer quickly. Find it at the top of the help centre's page.

What to enter
You can simply enter a term relating to what you're looking for, think of it as an internet browser search bar. For example, if you want to know how to create a customer invoice, simply enter 'create invoice' to be specific, or 'invoice' to render broader results.
You can even enter your question, for example, 'How do I create an invoice?'. The help centre will be able to suggest the most relevant guides to help you find what you're looking for.
Top suggestions
Whilst typing, the search will render top suggestions, if the relevant guide is there you can click on it.

Search results
You can also press Enter on your keyboard and a list of relevant guides will be listed for you.
Browsing
Categories and sections
The help centre guides are organised into categories and sections. Instead of searching, you can go through these categories and sections to view related guides about a particular subject.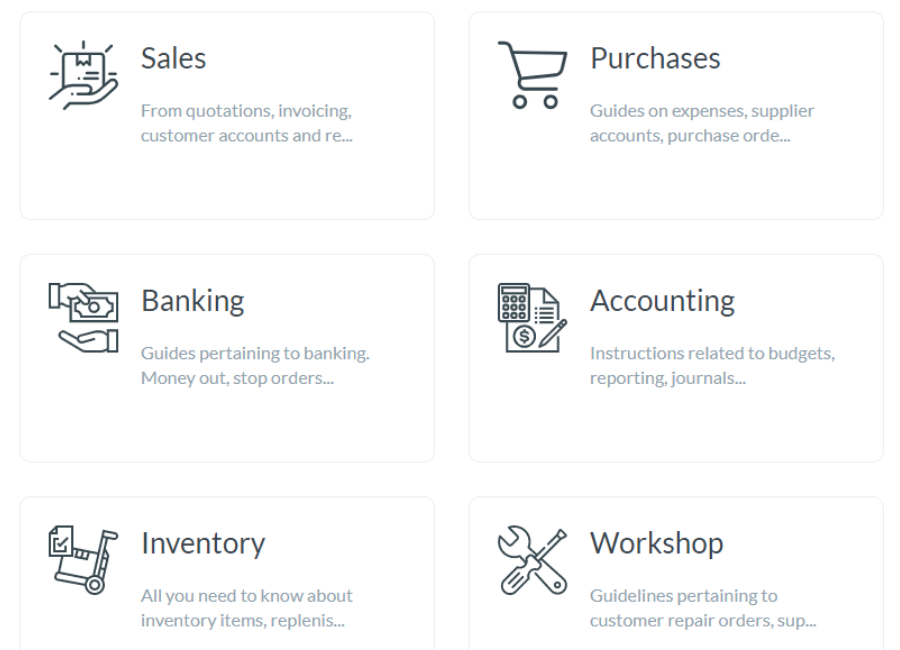 Sidebar
You'll see that a sidebar is visible on the left-hand side of the help centre making it easier for you to go through all the categories, sections and guides within.

Position indicator
Your position within the help centre will be indicated in the sidebar next to the current guide you are viewing with a blue, vertical indicator.

Return to top
When you want to return to the top of the page you can click on the visible upwards facing arrow in the bottom left corner of the sidebar.

Hyperlinks
Certain guides will contain hyperlinks that will open guides for either the next step in a process, or for instructions on how to perform another task related to the guide you are currently viewing.
Just click on these hyperlinks to view the relevant guide.